Top of the list of French cities for cycling, Strasbourg was very quick to connect up its tram network to non-motorised forms of transport such as walking and cycling. The next stage in the Deux-Rives/Zwei-Ufer project builds on this approach, the emphasis being on providing a smooth, relaxed living environment in districts whose services are close-by and easily accessible, whether by foot or by bike, and with direct connections to the Metropolis.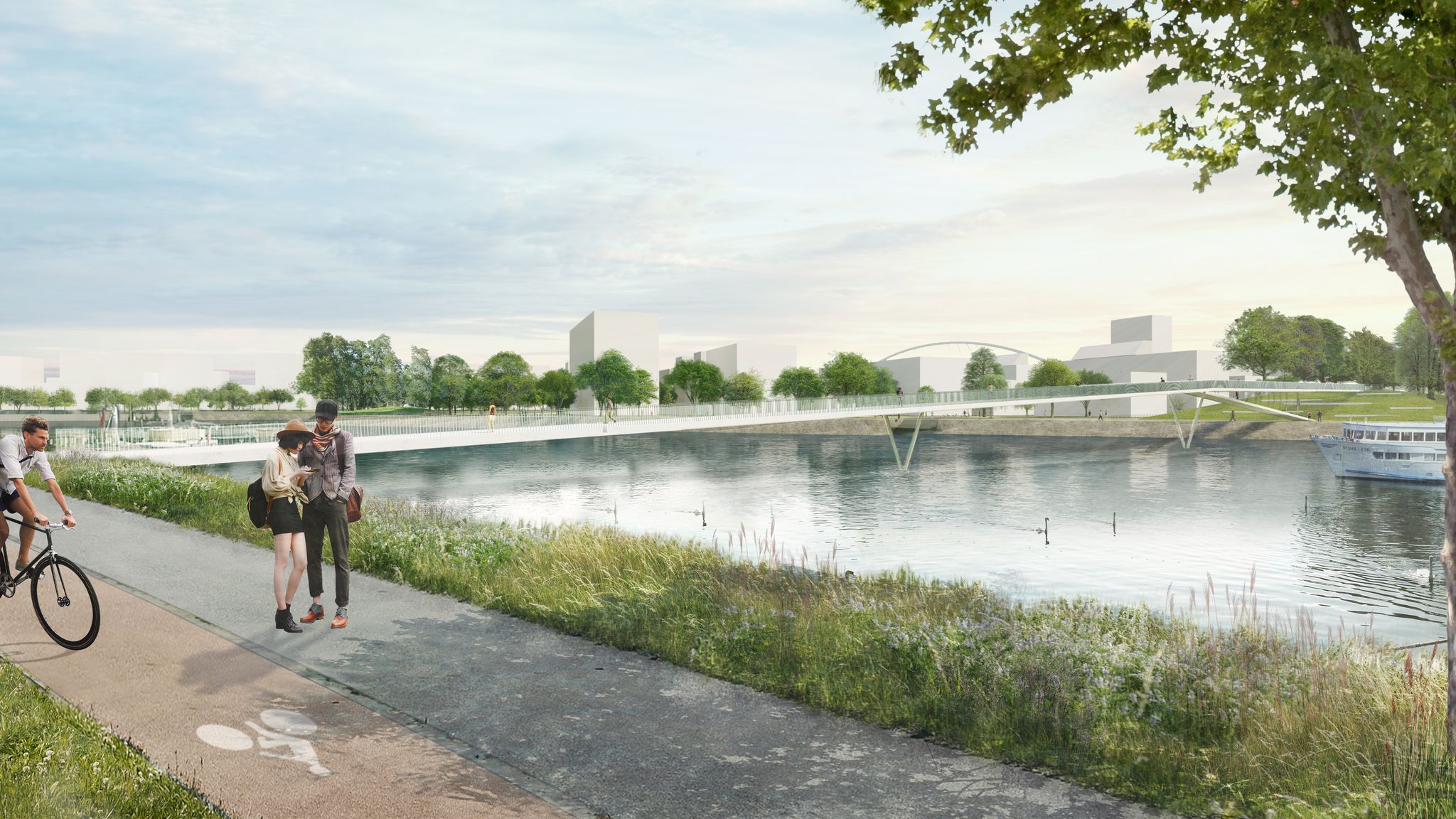 The Eurometropolis opted for sustainable mobility in order to reduce air and noise pollution and congestion, and for the benefit of our health and well-being. The tram gives structure to our urban travel and slots into the network of cycle paths, with the metropolitan Vélostras soon totalling 130 km of cycle routes. The share of car traffic is shrinking as road users switch to travelling by foot or by bike:
Travel by bike:
1997: 6 % of journeys in the Eurometropolis
2009: 8 %
2019: 11 % in the metropolis; 15 % in the city centre
Travel on foot:
2009: 31 % of journeys in the Eurometropolis
2019: 36.5 %
Public transport:
1988: 7 % of journeys in the Eurometropolis
1997: 9 %
2019: 15.5 %
Travel by car:
1997: 53 % of journeys in the Eurometropolis
2009: 47 %
2019: 36 %
–100 000 cars/day in Strasbourg in 10 years: 340 000 in 2009, 240 000 in 2019
(Source ADEUS – Observatoire de la mobilité)
The tram, backbone
Like the city centre, the new districts encourage environmentally-friendly and sustainable modes of transport. Tram Line D provides the backbone of the project, connecting the Port du Rhin district to the two city centres of Strasbourg and Kehl-am-Rhein. It was built even before the building construction phase, with the two new tramstops – Citadelle and Petit Rhin-Coop – already in place so that new arrivals have access to optimum transport conditions as soon as they move in.
3 tramstops: Port du Rhin; Petit Rhin-Coop; Citadelle
Strasbourg main train station in less than 20 mn
All housing less than 4 min walk to the nearest tramstop
Cycling
Everyone living or working in the new builds has access to secure bike storage. Cycle repair workshops and secure lockers are also planned. VelHop bikes are available for hire from shared public carparks. All parking areas anticipate a future increase in the number of electric bikes, cargo-bikes and three-wheelers.
3 levels of connections by bike:
All the districts have cycle streets where cyclists have priority over motorists
Cycle paths, with over 600 km of protected bike lanes in Strasbourg
The Velostras metropolitan network with its 130 km of cycle superhighways
Innovative parking
The public space is free from cars. Motorists park their vehicles are in 5 shared public car parks, 2 in Citadelle, 2 in Starlette, and 1 in the Coop district. All residential buildings are less than 250 m from these silo car parks, which offer car-sharing services, electric cars, and charging stations. In addition, on the banks of the Rhine private car parks are shared between several apartment blocks.
There is an abundance of parking: account is taken of vehicle uses (for example, where people live and where they work) so that everyone has access to parking but the number of spaces is not needlessly multiplied. The car parks include a percentage of visitor spaces to cater for additional vehicles where necessary.
Local residents and businesses can purchase a long-term "guaranteed parking" permit. The total price of parking is comparable to, or less than, the monthly cost of renting parking in the surrounding districts.
Quieter streets
Except for deliveries or removals, of course, the streets are car-free. The public space can therefore make the most of the room available. With attractive landscaped ditches for collecting rainwater, and bordered with green, streets are safe places for pedestrians and cyclists, ideal for strolling and walking, for meeting up with others, and for leisure.